03/23/2020

Mississippi County Offices Suspending Access to Public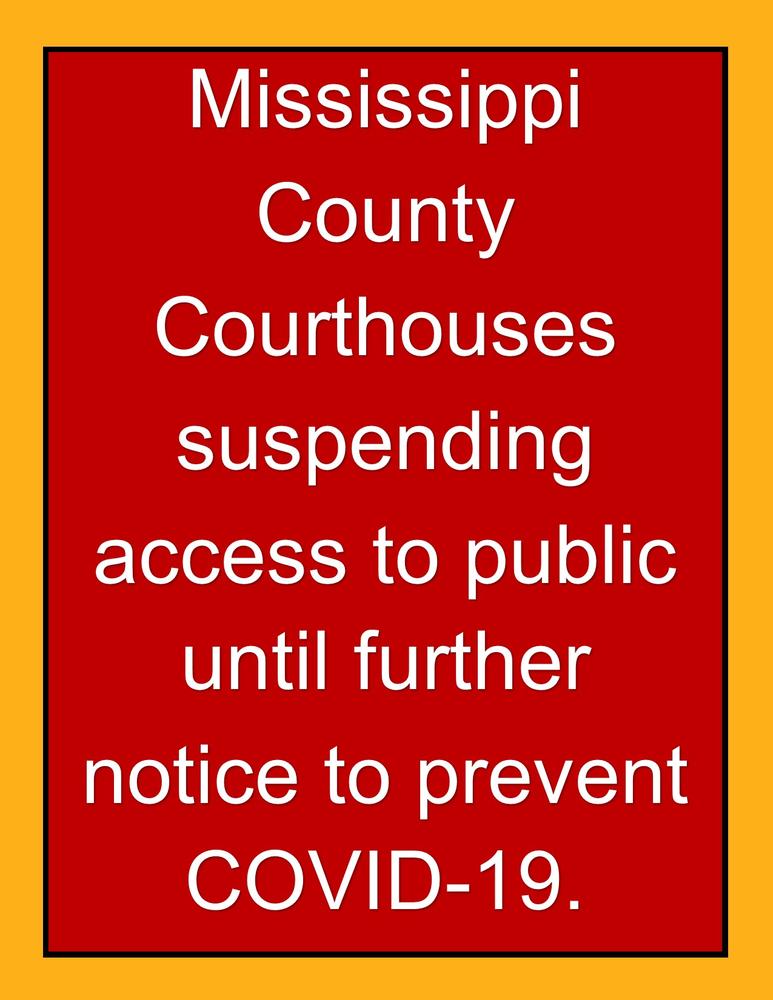 Mississippi County takes the COVID-19 outbreak seriously and is taking precautions to prevent its spread at county offices. The courthouses will be suspending access to the public until further notice. All offices will continue to do business, but the public will not be allowed to enter the building. If you need any assistance, please call during office hours, Monday - Friday, 9 AM to 4:30 PM. Please refer to the offices below for more info. We apologize for the inconvenience.
Tax Collector - Citizens can pay property taxes for the Collector's office by mail or online. The website to pay property taxes is www.propertytax.ark.org/mississippi. If citizens have any questions, they can call the Burdette office at (870) 763-6841 or the Osceola office at (870) 563-6558. The Collector accepts the following forms of payment by mail: personal check, cashiers check, and money order.
Assessor - Citizens can visit the Mississippi County website and complete an online assessment. The direct link is https://arkansaspersonalproperty.dsmgov.com/. For first-time assessing, lapse of years, new purchase, or new to Mississippi County assessments, citizens can scan and email their information to miss.co.realestate@mississippicountyar.org. The office requires a bill of sale on any new purchase. If anyone needs to renew tags for 2020, they will have to assess over the phone. If citizens have already assessed for 2020 and have their assessment copy, that will work for all the vehicles listed on there for the entire year. This is a new policy implemented at the beginning of the year following the requirements of other Arkansas counties. Citizens can also fax their info to (870) 763-5151.
If citizens have any questions or wish to do their assessment over the phone, please call during office hours, Monday - Friday, 9 AM to 4:30 PM... Contact information for each location is listed below:
Blytheville - (870) 763-6860

Osceola - (870) 563-2683

Manila - (870) 561-3554
Circuit Clerk - The office is using a dropbox attached to the outside of the building today. It's for anyone to drop-off anything they need to do in the office. We ask that you be very specific with the information that you need and attach a return phone number or return mailing address. Please call if you have any questions or need assistance. The Circuit Clerk's Office will answer questions to the best of their abilities and put requests in the mail for any copies you need. The public can call the Blytheville office at (870) 762-2332 or the Osceola office at (870) 563-6471.
County Clerk - If you are a lawyer that needs access to the office or you're a citizen applying for a marriage license, you must call in advance. Any motions to file will have to be done by mail or fax. The fax number for Osceola is (870) 563-1313. The fax number Burdette is (870) 838-7784. If you have any questions, please call our offices in Osceola at (870) 563-2242 or the Burdette office at (870) 762-2411. Stay tuned to the county webpage for updates on when we will resume business as usual.
Also, stay tuned on Facebook, Twitter, and YouTube for further updates at Mississippi County, Arkansas Government.